Introduction:
Chunky knit blanket which is also often known as "chunky" or "chunky knit throws," have quickly gained popularity in the worlds of cozy living and home decor. These blankets stand out for their incredibly thick, enormous knit patterns that produce an appealing, tactile feel. They frequently have chunky yarns and are made with big needles or looms giving them a soft and extremely soft feel.
In addition to being incredibly comfortable, these blankets are known for being versatile as both useful and decorative pieces. These blankets have the ability to completely change a living area by bringing warmth, style and a hint of rustic charm. They look great draped over a sofa, extended across a bed or even hanging as a wall accent. This article will further discuss about what is chunky knit blanket, how it came into being, the art of crafting these blankets, advantages of these blankets with different types, care and maintenance.
Table of Contents
What is Chunky Knit Blanket?
A handmade, plush, enormous blanket known as a "chunky knit" is created with thick and chunky yarn. These blankets are known for both their remarkable aesthetic appeal and luxurious feel. Chunky knit blankets can be made using a number of knitting methods; have come to represent comfort and style in contemporary home design.
How it came into being:
Chunky knit blankets have a long history that can be traced to traditional knitting techniques. The desire for warmth and comfort during the chilly winters gave rise to these blankets. Originally, they were knitted with large knitting needles and thick wool yarn by expert craftspeople. The craft has been updated and modified throughout time to match current design trends.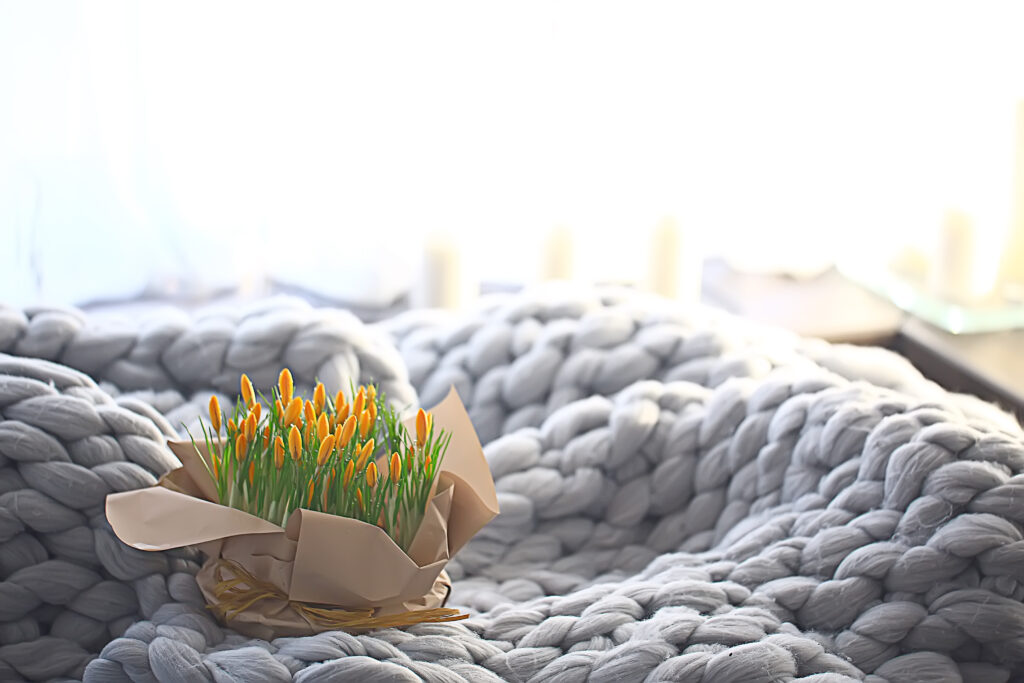 The Art of Crafting Chunky Knit Blanket:
This blanket's construction requires both creativity and technique. The thick, soft fabric that defines these blankets is made with care and attention. To get the desired look, modern artists use chunky yarn and huge knitting needles. The final result is a work of art is beautiful and useful. Choosing the correct yarn is the most important steps in making this blanket. For their warmth and softness, quality natural fibers like merino wool are favored. Unique patterns and textures can be produced in the completed product by using various yarn textures.
Advantages of Chunky Knit Blanket:
Advantages and benefits of these blankets are a lot, some of them are explained as following:
Cozy and Warm:
These blankets are incredibly warm and inviting because of their soft and thick texture. They are ideal for snuggling up in chilly weather since they provide good insulation.
Stylish Decor:
These blankets give any space a dash of elegance and class. The aesthetics of your living area can be quickly improved by their oversized and textured look.
Versatility:
These blankets are versatile and can be utilized in a variety of situations. They are lovely statement pieces for your home decor and look excellent draped over a couch, bed or chair.
Texture and Visual Appeal:
The chunky knit pattern produces an appealing tactile and visual texture that gives your decor depth and dimension. They can act as the design's centerpiece in your space.
Customization:
When buying or making these blanket, you can select from a broad variety of colors and yarn types, allowing you to match it with your current decor or make it to your preferences.
Handmade Touch:
These blankets have a handmade feel that gives them unique, artisanal character. They can feel more valued and special in your home as a result.
Comfortable Year-Round:
Chunky knit blankets are great for keeping warm in the winter but they are also comfortable year-round. In other seasons, they might offer just the appropriate amount of warmth on chilly evenings because they are breathable.
Gift-Worthy:
These blankets are wonderful gifts that loved ones will treasure. They are a well-liked option for special events because they are both useful and luxurious.
Low Maintenance:
These blankets require little maintenance. The majority is practical for everyday usage because they can be machine washed on a soft cycle.
Texture for Sensory Comfort:
Chunky knit blankets' tactile qualities that can provide a peaceful and pleasant sensory experience and make them a favorite among those who seek sensory comfort.
Aids in Relaxation:
A chunky knit blanket is ideal for unwinding after a long day since it can make you feel comfortable and relaxed.
Also Read: Blanket Ladder
Different Types of Chunky Knit Blanket:
These blankets are available in many different types to ensure the need of each and every individual so types are explained as following:
Wool Chunky Blankets:
These blankets are made from natural wool fiber and incredibly warm and cuddly. Wool blankets with chunky knits are very popular for their durability and timeless appearance.
Blankets made of cotton chunky knit:
Cotton chunky knit blankets are known for their softness and breath-ability. They are perfect for usage throughout the summer and in areas where intense heating is not necessary.
Merino Wool Chunky Blankets:
Merino wool is popular because of its softness and inherent insulating characteristics. Merino chunky blankets are a well-liked option for luxurious blankets since they are exceptionally soft and lavish.
Chunky knit blankets with a basket weave pattern:
These blankets have a textured surface that replicates woven baskets. The design gives the blanket depth and aesthetic interest.
Chunky Cable Knit Blankets:
Cable knit designs produce a traditional and timeless appearance. These blankets frequently have elaborate twists and braids that elevate and enhance the appearance.
Chunky Knit Blankets with Mixed Materials:
Some chunky knit blankets blend various materials to provide distinctive textures and looks. For instance, a wool and acrylic blend can combine the warmth of wool with the cost-effectiveness of acrylic.
Care and Maintenance:
Follow these care instructions to keep your chunky knit blanket looking good and functioning well:
Gentle Washing:
Wash your blanket gently by hand in cold water with a light detergent. Do not twist or wring it.
Drying:
To dry, lay the blanket flat. As the weight of the wet yarn may cause it to stretch, avoid hanging it.
Storage:
To avoid fading, keep your chunky knit blanket out of direct sunlight and in a cool, dry location.
Pilling:
You could observe some pilling over time. To delicately remove these pills, use a fabric shaver.
Repairs:
To stop greater harm, fix any minor tears or loose threads that appear on your blanket right away.
Conclusion:
In conclusion, Chunky knit blankets are more than simply warm additions to your house; they are a statement of comfort and elegance. For anybody seeking warmth and beauty in their living area, benefits, and variety make them essential. You can benefit from the comfort of your chunky knit blanket for many years to come by following to proper care and maintenance.
FAQ's:
Can I make my chunky knit blanket at home?
Absolutely! Many craft enthusiasts enjoy making their chunky knit blankets. You can find knitting patterns and tutorials online to get started.
Are chunky knit blankets suitable for all seasons?
While they are perfect for fall and winter, you can use lighter yarn and open patterns to make chunky knit blankets suitable for spring and summer.
Do chunky knit blankets shed?
Some shedding is normal with chunky knit blankets, especially if they are made from natural fibers like wool. Regularly shaking or gently brushing the blanket can help reduce shedding.