Introduction:
Hermès blanket is a priceless and timeless work of textile art. It represents the company's dedication to unsurpassed quality, classic style and fine craftsmanship. These blankets are more than simply warm coverings; they are appreciated symbols of elegance and class. These blankets are made from the best fabrics including luxurious cashmere, silk and wool mixes and provide unmatched comfort.
A careful selection of quality fibers guarantees not just softness and warmth but also enduring durability. This article will further discuss about the origin and history of these blankets, it's amazing craftsmanship, advantages and different types of these blankets, its care and maintenance for durable lifespan.
Table of Contents
Origin and History of Hermès Blanket:
Thierry Hermès established the French fashion business Hermès in 1837, although it all started as a harness workshop that served to the needs of European nobility. With time, the company increased the variety of products it offered to include everything from gorgeous scarves to leather accessories to popular blankets. These blankets are known in French as "couvertures," have a storied history dating back to the early twentieth century. These blankets which were first made to adorn horse-drawn carriages have come a long way and have become an icon of elegance and luxury. They are now desired for by sophisticated people worldwide.
Amazing Craftsmanship:
Hermès blankets are works of art rather than simple covers. Each piece is meticulously created by experienced craftspeople often taking several days to finish. Cashmere and merino wool are known for their great softness and warmth are combined to create the blankets.
Advantages of Hermès Blanket:
There are so many uncountable advantages of these blankets that are given below:
Uncompromising Quality:
Hermès is a symbol of exceptional quality. Their blankets are made with the best components, often a combination of cashmere and silk or other premium natural fibers. As a result, you get a blanket that is delightful to use that is soft, warm and highly comfy.
Timeless Design:
Hermès blanket is renowned for their beautiful and timeless patterns. They frequently have intricate designs, bright colors, and iconic themes. The blankets are a focal point for any space because to their timeless patterns.
Craftsmanship:
Each Hermès blanket is an example of the company's dedication to quality craftsmanship. Highly trained craftsmen who pay close attention to every detail from the stitching to the final touches meticulously create these blankets. The blanket will last for many generations because to the high quality of the construction.
Versatility:
Hermès blanket is versatile and can be utilized in a variety of ways. They make wonderful throws for couches and chairs giving your living area a touch of luxury. For an additional layer of warmth and style, they can be thrown over a bed.
Warmth and Comfort:
This blanket is exceptionally warm and comfortable due to the use of high-quality fabrics and expert craftsmanship. These blankets offer another level of comfort and ensure that you sleep comfortably without feeling cold.
Status Symbol:
Owning a Hermès blanket can be seen as a status symbol. Luxury goods collectors and experts due to the brand's reputation for quality and uniqueness seek after these blankets.
Investment:
Hermès blanket is definitely a luxury purchase but they can also be seen as investments. These blankets have the potential to become heritage pieces due to the brand's timeless appeal and reputation for excellence that means they can hold their value or even increase over time.
Gift-Worthy:
Hermès blanket is wonderful gifts. Giving someone a blanket is a meaningful and enduring present whether it's for a particular occasion or as an expression of appreciation.
Also Read: Barefoot Dream Blankets
Types of Hermès Blanket:
To facilitate the need of different customers, these blankets are manufactured in many different types that are explained as following:
Avalon Blanket:
One of Hermès' most recognizable designs is the Avalon blanket. It frequently combines cashmere and wool and has a unique herringbone pattern. These blankets come in a variety of color combinations and are renowned for their beauty.
H-Blanket:
The H-blanket is named because it often uses the letter "H" in the its design. It is a well-known and longstanding Hermès theme. Usually, these blankets are constructed of luxurious materials like cashmere or a cashmere-silk mix.
Plaid Blanket:
Hermès produces blankets in the plaid or tartan style each with its own distinct color palette and design. The classic and timeless appearance of these blankets is well recognized.
Animal Print Blanket:
Hermès blanket with animal prints such zebra or cheetah patterns are available. These patterns give the collection an element of exotic character.
Botanical Blanket:
Hermès also sells blankets with designs that are inspired by nature or botanicals. These might have flowery designs or depictions of animals and flowers.
Customized Blankets:
Hermès often enables customers to customize the color, size and sometimes even the addition of unique monograms for their blankets. With this choice, customers can design a really unique product.
Limited Edition Blankets:
Hermès occasionally produces limited edition blankets with unique patterns or artistic collaborations. Collectors place a great price on these blankets.
Seasonal Blankets:
Hermès can offer blankets with seasonal themes such as summer blankets with beach scenes or winter blankets with snowflakes.
Jacquard blankets:
Some of these blanket use complex weaving processes to produce beautiful, textured designs. A lot of people admire these blankets for their fine craftsmanship.
Blend of Silk and Cashmere:
A lot of this blanket is made of luxurious silk and cashmere giving you the softness of cashmere and the smooth, glossy shine of silk.
Baby Blankets:
Hermès also provides a variety of baby blankets in styles appropriate for newborns. These are produced with the same care and attention to detail as their adult counterparts.
Throws:
Hermès makes throws in addition to standard blankets which are ideal for draped over furniture like couches or armchairs to bring a sense of warmth and elegance to your home design.
Care and Maintenance:
Dry Cleaning:
These blankets should be dry washed in order to preserve their quality and avoid damage.
Storage:
To prevent fading, store your blanket away from direct sunlight in a cool, dry place.
Avoid Snags:
Handle your blanket gently to avoid pulling or snagging in the fabric.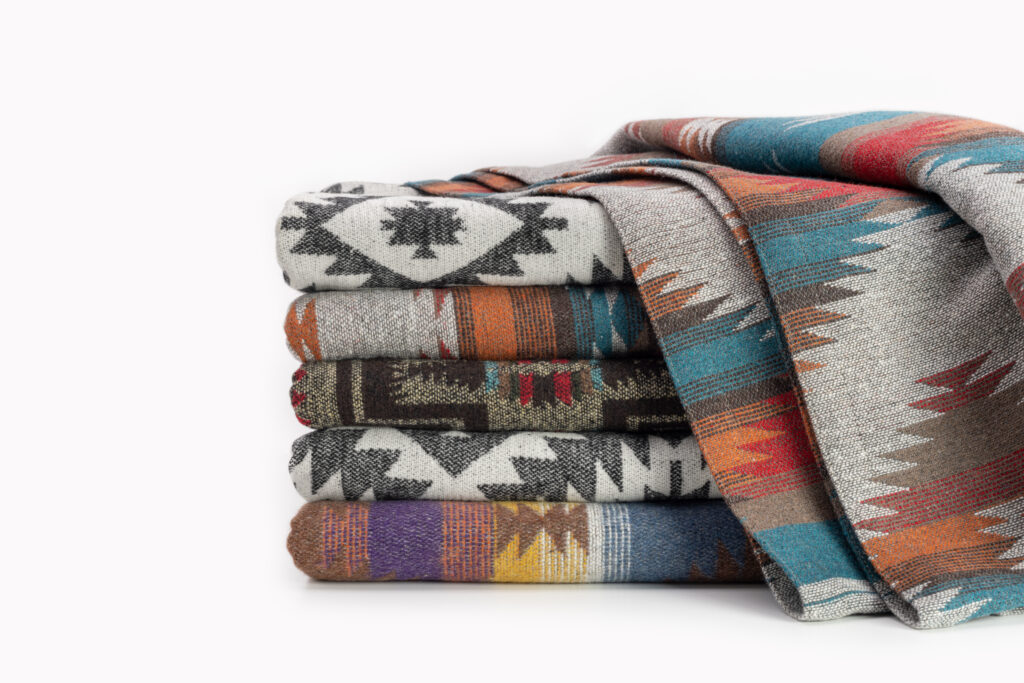 Conclusion:
In conclusion, Hermès blankets are a symbol of the brand's constant dedication to perfection in the world of luxury. These blankets are a symbol of luxury living from their long history to the unmatched craftsmanship. This blanket provides everything you could possibly want whether you're looking for home decor statement pieces, status symbols or comfort on chilly nights.
FAQ's:
Are Hermès blankets worth the investment?
Absolutely! Hermès blanket is not only incredibly soft and warm but also represent a piece of luxury fashion history. They are a worthy investment for those who appreciate quality and craftsmanship.
How do I know if my Hermès blanket is authentic?
Authentic Hermès blankets come with a distinctive tag and packaging. It's advisable to purchase from authorized Hermès retailers to ensure authenticity.
Can I use my Hermès blanket as a throw on my couch?
Yes, many Hermès blanket owners use them as throws to add a touch of luxury to their living spaces.