Introduction:
Blanket ladder is a multipurpose and stylish piece of furniture that has gained popularity in home design. Its main objective is to give you an efficient and beautiful method to store and display quilts, throws and other textiles in your home. With this ladder, you can organize your blankets neatly and aesthetically as compared to standard blanket storage options that include folding or stacking.
These ladders come in a variety of materials including wood, metal, bamboo and others each with unique design options to match different interior design themes. It's simple to choose one that matches the decor of your house because they come in a variety of sizes and patterns. This article will further discuss about what is blanket ladder, a glimpse of its origin, advantages and main types of these ladders, care and maintenance for longer and durable results.
Table of Contents
What is Blanket Ladder?
When it comes to holding and displaying blankets, throws, quilts, and even towels, a blanket ladder is a chic and useful piece of furniture. It usually has wooden or metal rungs that are placed in a ladder-like pattern, making it simple to drape with your favorite fabrics for both decorative and practical purposes.
A Glimpse into its Origin:
The blanket ladder's origins can be linked to a number of historical factors and practical requirements. Its oldest examples can be seen in the traditions of Native American tribes who used wooden or willow ladders to store and display their blankets and carpets. These ladders not only protected the fabrics from ground contact but also highlighted the colorful designs woven into the cloths. European settlers introduced the idea of ladder-style racks for bedding including blankets, quilts and sheets to colonial America.
The development of the ladder was helped by the Victorian era's use of ladder-like motifs into numerous furniture items. The Arts and Crafts movement highlighted the value of handcrafted, visually appealing furniture even more that can have influenced the development of more decorative ladder designs. This ladder has evolved into a flexible piece of furniture that blends use and aesthetic appeal in modern times showing the long and ever-evolving history of these interior design trends.
Advantages of Blanket Ladder:
There are many advantages of these ladders as it can enhance the overall look of room and other advantages are as following:
Decorative Accent:
Depending on the style and finish of the ladder, a ladder can bring a touch of rustic or modern charm to your house. It can improve a room's overall attractiveness.
Space-saving:
A ladder for blanket uses far less room on the floor than more conventional blanket storage techniques like folding and stacking. This makes it a fantastic option for tiny living areas when making the most of the available floor space is important.
Easy Access:
Your blankets and throws are accessible due to blanket ladders. Instead of having to search through a stack or unfold many blankets to find the one you want, you can just reach for the one you need.
Variety of Uses:
Although these ladders are usually used to showcase blankets, you can also use them for displaying quilts, towels, scarves and even decorative items like tapestries. It is an efficient complement to any area because of its versatility.
Organization:
By neatly and attractively hanging blankets or throws, these ladders promote organization. This keeps your living area organized and reduces clutter.
Displaying Textures and Colors:
This ladder enables you to creatively display your collection of blankets with a variety of textures, patterns and colors. The design of your space can gain depth and personality as a result.
Portable:
A ladder for blanket can be moved around, unlike built-in storage options. It is simple to transfer from one room to another and you can even take it with you when you move to a new house.
Simple Upkeep:
It's easy to keep a ladder for blanket clean and in good condition. To maintain it looking its best, regular dusting and periodic cleaning is usually all that is needed.
Types of Blanket Ladder:
These ladders are manufactured in many different designs and styles so that everyone can choose according to their own room accent and matching style.
Wooden Blanket Ladder:
A traditional option is a wooden ladder for blanket. The hardwoods oak, pine and walnut are frequently used to make them. Wooden ladders come in a variety of designs from rustic to modern and can be painted or stained to match your decor.
Metal blanket ladders:
These ladders are known for their durability and sleek design. They can be finished in a variety of colors including black, gold or silver and are often built from materials like iron or steel.
Bamboo Ladder for Blanket:
Bamboo ladders for blanket are environmentally friendly choices that give your area a natural and tropical vibe. They frequently appear in houses with a bohemian or beach vibe since they are easy and lightweight to carry concerning.
Rustic Blanket Ladder:
Ladders made of a rustic blanket frequently seem worn or frayed. To get a vintage and farmhouse-inspired design, they could utilize alternative materials such as barn wood or salvaged wood.
Minimalist Ladder for Blanket:
Simple and subtle with clean lines and a lack of elaborate features; minimalist ladder designs include the ladder for blanket. These ladders are ideal for contemporary and minimalist design aesthetics.
Decorative Blanket Ladder:
Some of these ladders for blanket have decorative elements like carvings, scroll work or elaborate finials. These ladders provide both functional storage and decorative accents.
Leaning vs. Wall-Mounted Ladders:
Ladders for blanket can either lean against a wall or be wall-mounted. While wall-mounted versions are set in place and offer a better long-term storage solution, leaning ladders are freestanding and can easily move.
Portable Folding Ladder:
Foldable ladders for blanket that can be moved easily include foldable design. These ladders are an excellent solution for tiny places since they can be easily folded and stored when not in use.
Ladder with Shelves:
Some ladders for blanket have shelves or other storage areas built in, giving you more room to display decorative accents alongside your blankets.
Ladder with Hooks:
In addition to hanging blankets, ladders with hooks or pegs on the sides or rungs make it simple to hang smaller objects like scarves, hats or bags.
Ladder with Wheels:
Ladders with wheels or casters on the bottom are even more portable making it simple to transfer your blankets or throws in your house.
Also Read: Custom Pillow
Care and Maintenance:
The most important step is care and maintenance in order to take care of your product:
Dust it Regularly:
The blanket ladder's surface can gather dust; therefore it's important to dust it regularly. To carefully clear the rungs and frame of the ladder of dust and dirt use a soft cloth or a feather duster.
Avoid Excessive Moisture:
Too much moisture can cause warping or mold growth which is bad for wooden ladders for blanket. Avoid placing your ladder in wet locations like bathrooms or damp basements.
Examine Damage:
Check ladder for blanket frequently for any symptoms of damage such as rungs that are loose or wood that is splintering. Address any problems you see right away to prevent future harm.
Tighten Screws and Hardware:
If ladder for blanket is made of screws or other hardware, check for loose connections from time to time and tighten as necessary to keep it stable.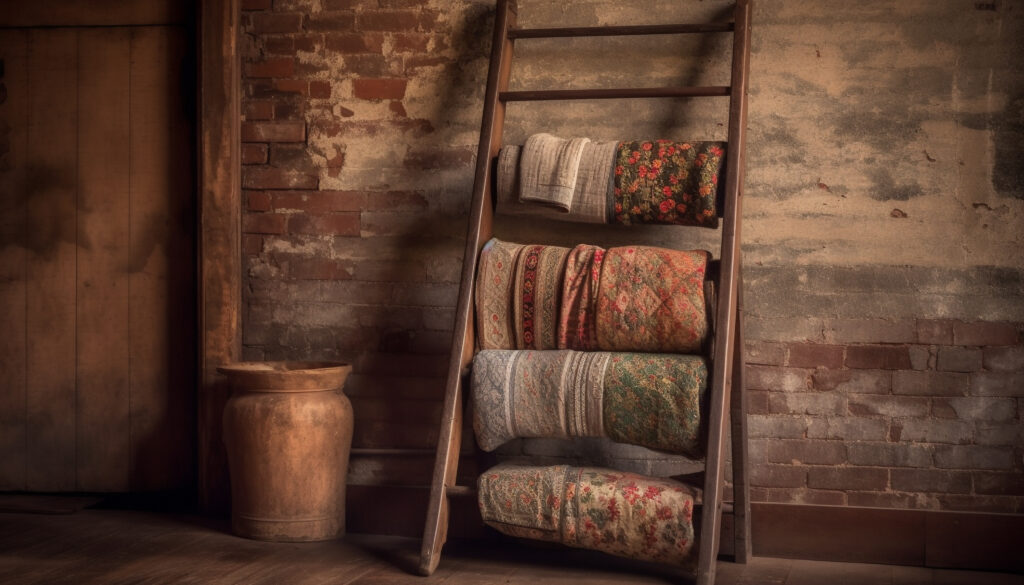 Conclusion:
In conclusion, the blanket ladder is an important part of your home decor collection. It is a flexible and useful option because to its compact size, simple accessibility and visual appeal. You can choose the ideal ladder to improve your living space from a variety of various types that are readily available.
FAQ's:
How do I choose the right blanket ladder for my home?
Consider factors such as the ladder's material, style, size, and finish to ensure it complements your decor. Think about the space you have available and the number of blankets you want to display.
What decor styles work well with blanket ladders?
Blanket ladders can complement various decor styles, including rustic, farmhouse, bohemian, modern, and minimalist. The choice of ladder design and finish can help it blend seamlessly with your decor.
Can I use a blanket ladder outdoors?
Blanket ladders are primarily designed for indoor use. Exposure to outdoor elements can damage the ladder's material and finish. If you want to use it outdoors temporarily, protect it from rain and direct sunlight.