Introduction:
UnHide blanket is a beautiful and versatile blanket that provides comfort and warmth while also adding style to any living area. These blankets are known for their extraordinary softness and durability since they are made from high-quality sustainable fabrics. This blanket's elegant and minimalist design matches a variety of decor styles bringing a sense of elegance and elegance to any environment. This blanket is ideal for snuggling up on chilly evenings or simply providing a stylish addition to your living area whether spread over a couch, bed or armchair.
This blanket is available in a variety of sizes, colors and textures to accommodate a variety of tastes and interior design concepts. Its superior construction guarantees that it is simple to look after as it will maintain its color and texture even after multiple use and washes. This article will dive deeper in the brief history of UnHide blanket, the origin of these blankets, impact on sustainable living, advantages and types of these blankets, care and maintenance.
Table of Contents
Brief History and Origin of UnHide Blanket:
The UnHide blanket has a brief but significant history. Rachel Cohen was the founder of UnHide who presented it to the market in 2019 with the goal of providing elegant and cruelty-free options to traditional fur blankets. Cohen was motivated by her love of animals and a desire to produce a product that reflected her principles of compassion and sustainability.
The introduction of these blankets was an important turning point in the luxury blanket market highlighting the significance of ethical sourcing and responsible production techniques. UnHide was able to produce a luxury product that matched the needs of consumers seeking both elegance and conscientiousness by employing high-quality synthetic materials that imitate the softness and warmth of real fur.
Since its launch, this blanket has received a great deal of attention and appreciation for its remarkable quality, innovative design and commitment to animal-friendly manufacture. In the worlds of decor and luxury living, it has quickly established itself as a symbol of both comfort and social responsibility.
Impact on Sustainable Living:
UnHide's uncompromising dedication to sustainability extends beyond its goods to sustainable lifestyle. The brand serves as an inspirational catalyst for consumers and businesses equally driving a collective reconsideration of their environmental footprints by promoting ethical buying and pushing for responsible production processes.
Also Read: Halloween blanket
Advantages of UnHide Blanket:
These blankets offer several advantages making them a popular choice for those seeking both comfort and conscientiousness in their home decor and these are given below:
Ethical and Cruelty-Free:
UnHide blanket is manufactured from synthetic materials that closely resemble the softness and warmth of genuine fur without killing animals. Individuals who are concerned about animal welfare will benefit greatly from this ethical approach to production.
Luxurious Feel:
These blankets are known for their extraordinary softness and velvety texture making them an enjoyable and comforting experience. The synthetic materials employed in their manufacture give them a lovely feel similar to genuine fur.
Stylish Designs:
These blankets are available in a number of fashionable designs, colors and textures making them ideal complements to any home decor. UnHide has options to fit your taste whether you like a traditional or trendy design.
Sustainable and Eco-Friendly:
UnHide encourages sustainable and environmentally friendly methods using synthetic materials. When compared to blankets produced from actual animal fur, these blankets are a more ecologically friendly option.
Hypoallergenic:
These blankets are usually hypoallergenic which means they are less likely to cause allergies in those who are allergic to allergens present in natural fur.
Durability:
These blankets are made of high-quality fabrics that are intended to endure repeated usage and cleaning ensuring that they remain in outstanding condition for an extended length of time.
Easy Maintenance:
UnHide blanket is generally simple to take care because they are usually machine washable and low maintenance increasing to their comfort.
Versatile Use:
These blankets are quite adaptable and may be used as throws on sofas, draped over beds, or as decorative accents in a variety of situations, enabling you to enjoy their warmth and style throughout your house.
Ideal Gift Choice:
UnHide blanket provide thoughtful and attractive gift alternatives valued for their quality and ethical ideals making them an appropriate choice for important occasions.
Types of UnHide Blanket:
These blankets offer a range of blanket types each with its unique features and characteristics to cater to different preferences and needs which are given below:
The Marshmallow Blanket:
This type of UnHide blanket is known for its incredibly soft and fluffy texture. It's designed to replicate the feeling of wrapping yourself in a cozy cloud. The Marshmallow Blanket is perfect for those who prioritize warmth and comfort.
The Classic Blanket:
The Classic UnHide blanket is a timeless choice with a smooth and elegant finish. It's versatile and complements a wide range of interior decor styles. The Classic Blanket is often selected for its simple yet sophisticated appearance.
The Lil' Marshmallow Blanket:
Designed for children, the Lil' Marshmallow Blanket is a smaller and equally soft version of the Marshmallow Blanket. It offers the same comfort and luxury making it ideal for kids to snuggle with.
The Little Classic Blanket:
The Little Classic Blanket like the Lil' Marshmallow is designed for youngsters. It has the same classic style as the adult Classic Blanket but is smaller for children.
The Faux Fur Throw:
UnHide also has a range of faux fur throws that are great for hanging over furniture or snuggling up with on a chilly evening. These throws are available in a range of colors and designs and they lend a sense of elegance to any area.
The Luxe Cuddle Blanket:
The Luxe Cuddle Blanket is well known for its extra-long threads that resemble the look and feel of fur. This blanket is the height of luxury and is intended for individuals who enjoy warmth and richness.
Care and Maintenance:
To keep your UnHide blanket in top condition follow these care and maintenance tips. For regular maintenance, shake and fluff the blanket. If it gets stained, spot clean with a mild detergent and cold water. For deeper cleaning machine wash on a gentle cycle in cold water with a gentle detergent and avoid using bleach or fabric softeners. Finally, either tumble dry on low heat or air dry to maintain the blanket's quality and softness.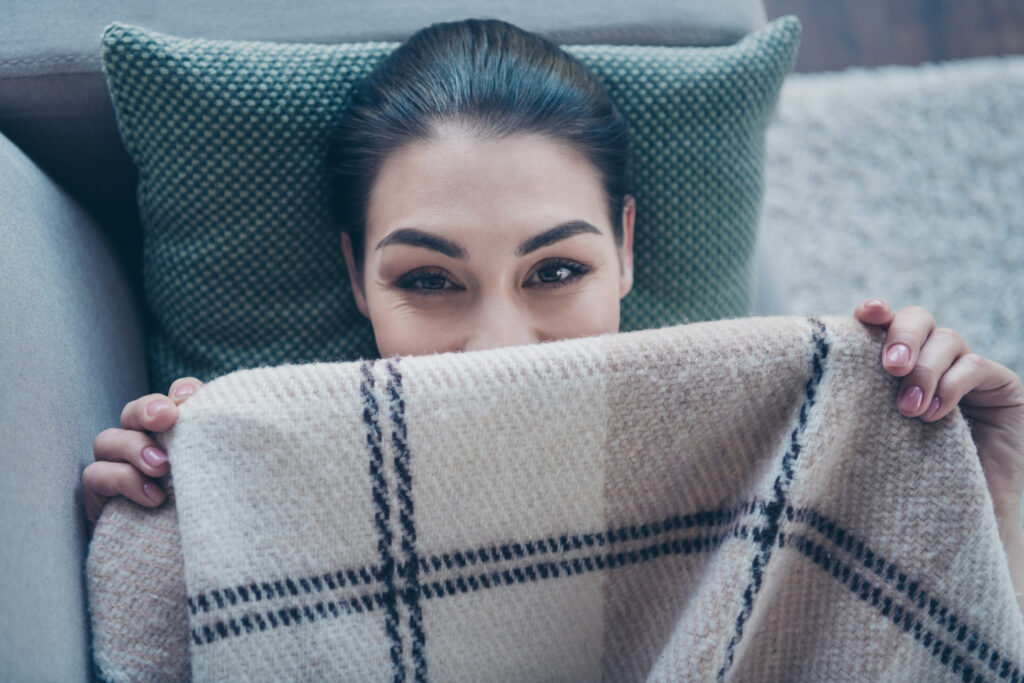 Conclusion:
In conclusion, UnHide blanket combine comfort, luxury, and sustainability in a way that few other blanket brands can match. When you choose this blanket, you're not just getting a cozy addition to your home; you're making an eco-conscious choice that aligns with modern values. Join the UnHide community and experience the warmth, softness and elegance of their faux fur blankets.
FAQ's:
Are UnHide blanket cruelty-free?
Yes, UnHide blanket is made using only faux fur and are completely cruelty-free.
Do UnHide blanket shed?
No, UnHide blanket is designed not to shed, ensuring a clean and hassle-free experience.
Can I use UnHide blanket for outdoor activities?
Certainly! UnHide blanket are versatile and can be used indoors or outdoors.
Do UnHide blanket come in different sizes?
Yes, UnHide blanket are available in various sizes, from throws to larger blankets.