Introduction:
Picnic blanket is not just any piece of cloth; it is the key for fun and relaxation in the natural world. Any natural area can turn into your own little refuge thanks to its warm embrace. These blankets have been created to meet all of your needs from traditional designs that bring back memories to modern waterproof wonders. This article will further dive into what is picnic blanket, reason for its popularity, its history and origin, man advantages and it different types, maintenance and cleaning.
Table of Contents
What is Picnic Blanket?
A picnic blanket is often called an outdoor blanket or a picnic rug and it is a specially made blanket that is used for outdoor meals and leisure activities. It provides a cozy and clean surface for sitting or lying down while taking in an outdoor event like a concert, picnic or day at the beach. These blankets are usually made from strong, water-resistant and hygienic materials.
Reason for its Popularity:
In natural surroundings, picnic blanket provide a soft and cozy area for relaxation. They give people an option to sitting on uncomfortable surfaces like grass or sand and enable them to easily take part in events and enjoy their meals. It might be difficult to maintain hygiene in outdoor environments. With a these blanket between you and the ground, you are protected from mud, bugs and moisture. They are therefore an important tool for ensuring that your outdoor experience is both pleasant and clean. These blankets have a ton of applications. They can be used for a variety of outdoor activities including camping, picnics, and trips to the beach and simply as a comfortable place to watch the stars.
The Origin of Picnic Blanket:
The idea of employing blankets for outdoor activities has existed for generations. However, the picnic blanket as we know it now only dates back a short while. Picnics became into a popular social activity in the 19th century's Victorian era which is when it first gained popularity. For an outdoor meal, the tradition of laying a blanket on the ground gained popularity. All social classes embraced the concept of enjoying great food and the outdoors. These blankets have improved in functionality throughout time, getting waterproof backing and more visually appealing patterns.
Advantages of Picnic Blanket:
There are uncountable advantages of these blankets and some of them are explained as following:
Movable Comfort:
Comfort is very important when it comes to outdoor relaxation. With blanket for picnic, you can instantly create a comfortable place to sit or lie down wherever you want. The soft cushioned surface offers a cozy haven among the beauty of nature.
Defending from the Elements:
With a picnic blanket between you and the ground, you are shielded from mud or moisture. You can sit on your blanket without concern, keeping your clothing clean and dry regardless of whether the ground is somewhat moist or covered with sand.
Flexible Use:
These flexible blankets are not only for picnics. They can be used as a temporary yoga mat, a relaxing reading corner or a place to gaze at the stars. They are essential outdoor companion because of their versatility.
Simple to Clean:
Many blankets for picnics are made with simple maintenance in mind. Since they are frequently machine-washable or simple to clean, your outdoor experiences won't leave behind leftover messes.
Suitable for families
Since these blankets come in a variety of sizes, they are perfect for big groups of people and families. You can create a gathering area where people relax and share food.
Aims to Improve Dining Experience
With the right blanket for picnic, you can enhance your picnic experience. It gives your food and drinks a spotless and cozy surface guaranteeing that your outdoor dining experience is as pleasurable as it is wonderful.
Elegant Designs
Since these blankets come in so many different colors and patterns, you can show your unique style even while taking in the great outdoors. There is a blanket to fit your style whether you choose classic stripes or colorful flowers.
Durable and Lasting:
Long-term benefits can be gained by making a great picnic blanket investment. Many are built to last and can resist repeated usage so you can count on them to be your outdoor companion for many years to come.
Lightweight and Easy to Carry:
The majority of picnic blankets come with handy straps or bags that make transporting them simple. They are very portable and can go wherever your travels take you.
Also Read: Pendleton blanket
Types of Picnic Blanket:
There are a lot of types of these blankets and they are explained as following:
Traditional Blanket for Picnic:
Classic blankets for picnic consisting of fleece, cotton or a fabric combination are known as traditional blanket for picnic. They can be quickly rolled up or folded for traveling and they often have attractive patterns.
Waterproof Blankets for Picnic:
Waterproof blankets for picnic have a waterproof backing that stops moisture from passing through making them ideal for damp or rainy conditions. Even when you're sitting on wet grass or sand, this type of blanket keeps you dry.
Totes for Blankets for Picnic:
These blankets have built-in handles or bags that make them very portable. Transportation is simple because you can tote them about or throw them over your shoulder.
Insulated Picnic Rugs:
Created for colder weather, these blankets feature extra insulation to keep you comfortable on chilly outdoor outings. Additionally, they often have a waterproof backing.
Foldable Picnic Blankets:
These blankets were made to be as convenient as possible. For simple folding and storage, they provide fold lines or a built-in guide. They will fit nicely in a backpack or picnic basket as a result.
Extra Large Blankets for Picnic:
Extra-sized blankets for picnic provide enough room for everyone to sit comfortably and are ideal for large groups or family picnics. They usually have space for a picnic spread.
Picnic Blanket with Built-in Cushions:
Some picnic blanket includes built-in pillows or cushions that provide your outdoor sitting arrangement an added layer of comfort.
Eco-Friendly Picnic Blankets:
Eco-friendly blankets for picnic are an environmentally friendly option because they are made of sustainable materials. They often have a low environmental effect during production.
Maintenance and Cleaning:
Follow these easy maintenance recommendations to maintain your blanket for picnic in great shape:
Shake It Off:
Shake your blanket gently after each usage to get rid of crumbs and other particles. This keeps it clean and prevents stains.
Cleaning:
Use a gentle detergent or stain remover to treat stains right away. Always review the blanket's particular care suggestions.
Machine Wash:
These blankets are manufactured in many different materials and designs and many blankets used for picnics are machine washable. Read the washing instructions carefully.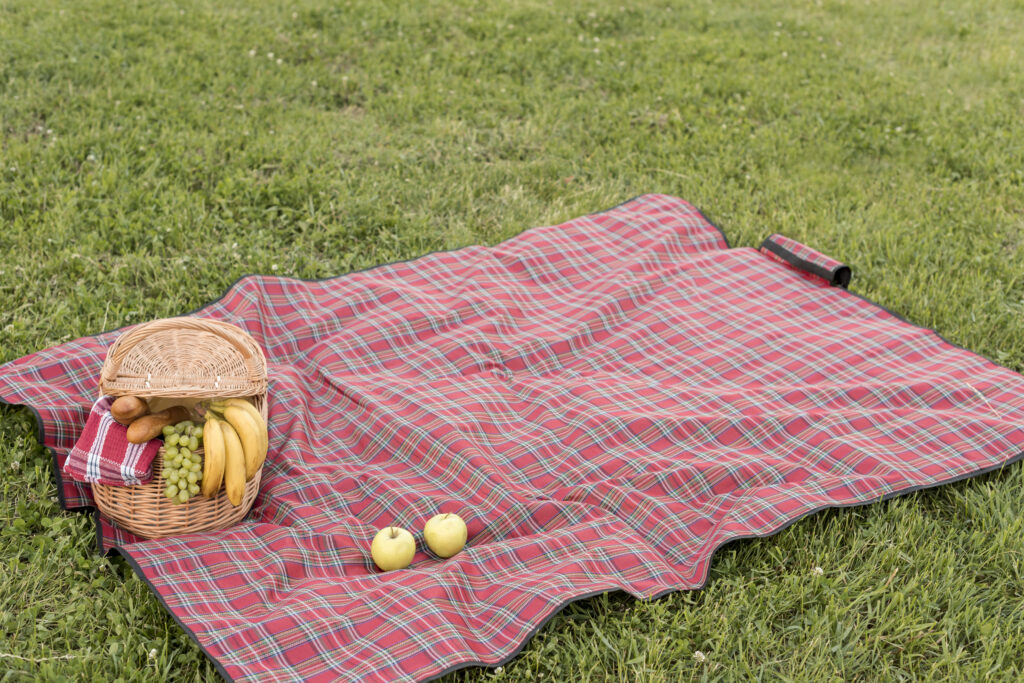 Conclusion:
In conclusion, your outdoor activities can be significantly improved by including a picnic blanket. A blanket for picnic offers comfort and cleanliness allowing you to completely appreciate the beauty of nature whether you're eating in a park, relaxing in the sun at the beach or camping beneath the stars.
FAQ's:
Can regular blanket be used as a blanket for picnic?
While you can use a regular blanket, picnic blankets are designed with outdoor use in mind, offering features like waterproof backing and portability that make them more suitable.
What is the best material for a blanket for picnic?
The best material often depends on your needs. Polyester and nylon are popular choices due to their long-lasting ability and water resistance.
Are picnic blankets machine washable?
Many picnic blankets are machine washable, but it's essential to check the care instructions provided by the manufacturer.