Introduction
Boppy pillow is the best innovation that is especially designed for infants and mothers. These pillows have very adaptable design and features that can be used for many different purposes. They come in different shapes and sizes in order to full fill the need of parents. It also provides the best support to the babies around six months. Boppy pillow has become best friend of parents and allows babies to be comfortable. No matter if you are a new parent or not, this pillow is the best option for you.
The History and Creation of Boppy Pillow:
Susan Brown was the inventor of Boppy pillow and this pillow was invented in 1989. She was a physical therapist and later when she was becoming mother she realized that there was a serious need of a supportive, comfortable and relaxing pillow for pregnancy and nursing. Susan's invention gained popularity all over the world in very minimum amount of time.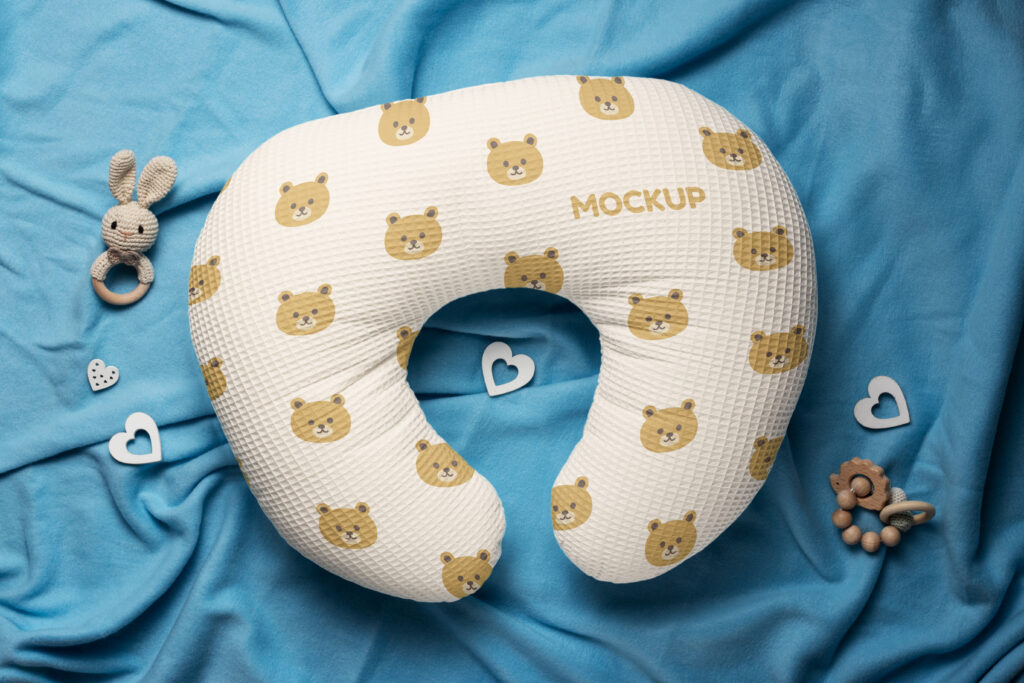 Importance and Benefits of Boppy Pillow:
There are many benefits of these pillows for mothers as well as infants. Some of the advantages are as following:
Enhances Baby's Comfort and Sleep:
By using the Boppy Pillow, mothers who nurse can guarantee that their infant is at the ideal height for latching. This encourages better posture, which eases stress on the mother's neck, shoulders, and back.
Support for Nursing Mothers:
The surface of these pillow is very supportive and plush which helps to provide cozy environment so that they can feel relaxed and comfortable. This allows both parent and baby to sleep peacefully and relaxed.
Assisting the Developmental Milestones of Infants:
The Boppy pillow are best for the promoting the developmental milestone of the infants. It supports baby's shoulders and neck during feeding time. This helps in building the muscle strength which is very important.
Boppy Pillow Designs with Features:
These pillows are manufactured in different styles, sizes and designs. It fulfills the need of different parents. Some of designs and features are following:
Perfect Shape and Size:
With its distinctive "C" shape and snug fit around the mother's waist, the Boppy Pillow offers optimal support for breastfeeding or bottle-feeding. The size and shape are ideal for placing the infant in a cozy cradle.
Versatile and Perfect for Other Uses:
The adaptability of these pillow is one of its main benefits. It can be very helpful to support the baby during activities, support them during tummy time, and even help them learn to sit independently in addition to nursing.
Easy to Clean with Removable Cover:
The machine-washable, detachable covers that come with Pillows make it simple to maintain a fresh, clean pillow. When managing frequent baby messes, this function is extremely essential.
Methods for Choosing Perfect Boppy Pillow:
There are several ways which help you choose the best pillow as some of them are following:
Consider the Purpose of Pillow:
Always know about your primary purpose while choosing the Boppy pillow. A supportive, firm pillow is best if it will primarily be used for nursing. A little bit softer of a pillow could be better for fun and sitting support.
Assessing the Firmness Level:
It must have the appropriate level of firmness. While still keeping sufficient support to hold the baby in the proper position, it should be sufficiently soft to comfort the infant.
Washable Cover are Mandatory:
A Boppy Pillow with a washable covering is a lifesaver because babies can become messy. To ensure simple cleaning and maintenance, check the care instructions.
Filling Material:
The comfort and support of this type of pillow greatly influenced by the type of stuffing that it contains. Memory foam, polyester fiber, and micro beads are examples of typical fillers. Pick a filling that provides the ideal combination of support and softness.
Ways of Using Boppy Pillow Safely:
There are certain ways in which parents can assure the safety of children. These ways and tips are explained as following:
Always Watch Over the Child:
Despite the safety features of the Boppy Pillow, it is still important to keep an eye on the child while using it to avoid any mistakes or accidents.
Ensure Proper Positioning for Nursing:
When nursing, make sure the baby's head is properly supported to encourage a correct latch and reduce discomfort for both the mother and the child.
Use Boppy Pillow for Tummy Time:
To assist lifting of the head and development of the neck muscles during tummy time, drape the baby's chest over the Boppy Pillow while supporting their arms and shoulders.
Best for Baby Sitting Support:
With added support from the Boppy Pillow, newborns can gradually adjust to sitting unassisted. As the infant gets older, they can use them as a cushion while they achieve independent sitting.
Reliable for Pregnancy Support:
Pregnant women who use the Boppy Pillow can get the much-needed spinal support they need, which will ease lower back pain and improve posture unlike latex pillow. Especially in the later stages of pregnancy, expectant women can utilize them to achieve a comfortable sleeping position.
Boppy Pillow for Baby Feeding Time:
Boppy Pillow tummy time helps infants build strong neck and shoulder muscles, which are crucial for later motor development. These pillow offers babies a secure and encouraging surface on which they can explore and refine their motor abilities.
Tips for Cleaning and Maintaining:
Always use the machine-washable covers that come with the pillow to maintain the these Pillow hygienic and clean. Use a moist cloth and a mild detergent to gently spot clean these pillows in the event of spills or accidents.
Conclusion:
For new parents, the Boppy Pillow is a versatile and priceless tool that offers support and comfort during feeding, playing, tummy time, and more. It is a convenient option for busy parents because to its comfortable shape and washable coverings. Observe your infant while using the Boppy Pillow and use it safely. Purchasing a them is an investment in the comfort and well being of both you and your child.
FAQ's:
Which Boppy pillow was recalled?
Boppy Original Newborn lounger was the pillows which were later recalled because of eight infant's deaths due to suffocation. It has been illegal now.
What is Boppy nursing pillow for?
The Boppy nursing pillow is especially designed for the nursing purpose. It helps the mother to cradle the baby comfortably while they feed them.
Are Boppy pillow safe?
They are safe as long as you are using them properly. It is very important to keep babies in your supervision. Babies should not be allowed to sleep in one because there are high chances of suffocating of infants.
Can Boppy pillow be washed?
The Boppy Pillow's cover can be washed in a machine. Simply take it out of the pillow and wash it according to the care guidance.
Are Boppy pillow safe?
Normally to cradle your baby, they are perfectly safe but not for sleeping. The Consumer Products Safety Commission advises against using loungers or nursing pillows as beds. Babies have occasionally suffocated to death when using pillows or loungers, especially Boppy Loungers.